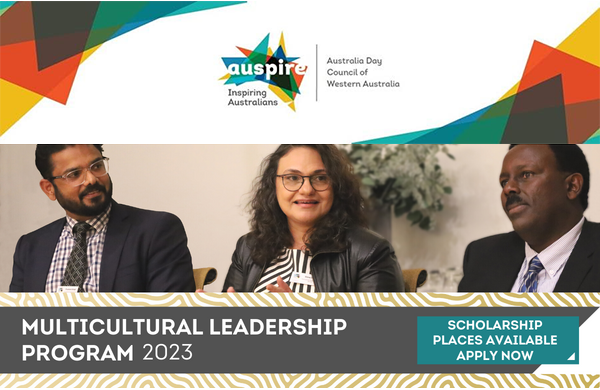 Are you a current or aspiring community leader with a multicultural background? Do you want to develop your leadership capability?
Auspire – Australia Day Council WA invites you to apply for the 2023 Multicultural Leadership Program, in partnership with the Office of Multicultural Interests. This program aims to support current and aspiring culturally and linguistically diverse (CaLD) leaders to further their leadership goals and experiences.
Developed in consultation with Auspire's Multicultural Advisory Group, the Program will provide access to a variety of great networking opportunities, capacity-building forums, Aboriginal Culture and Awareness training, and other leadership development opportunities.
Participants will get the chance to attend Auspire's range of events with Australian of the Year and Community Citizen of the Year Alumni, plus our Inspiring Australians Ambassador network.
For more information on the Program, including requirements, eligibility criteria and important dates, visit the Multicultural Leadership Program on the Auspire website.
Applications close Wednesday 30 November 2022.